Specs and Plans
Before you design anything you should have a clear idea of who will use it and how it will be used. This is doubly true with boats. Before I searched for an architect to design Jakatan I wrote detailed descriptions of how the boat would be used, where it would be used, and why I wanted a custom boat. I tried to be honest. As to where the boat would be sailed it was easy to dream of ocean passages in the South Pacific, but I have been sailing on San Francisco Bay for fifteen years with summer trips to California's inland delta and that was where the new boat would likely be sailed. Ok, I hope to do coastal trips of a maximum of two months duration, Mexico and British Columbia for example, but mostly it would be sailing on SF Bay.
I knew that some of the places we sailed, for example Petaluma and the California Delta, and some of the places I hoped to eventually sail, such as the Chesapeake Bay, meant the draft shouldn't be over 5.5 feet. I set a limit of 40' LOD because small boats are more fun and get sailed more. I felt that 40' would allow a comfortable boat for my wife when cruising but still be fun to daysail on SF Bay.

When it came to picking an architect I had two choices. One was to go with someone familiar with schooners, gaff rigs, and traditional boats. Instead I decided to work with someone who was an expert in modern cruising sailboats. I felt it was more important to have modern accommodations and a modern underwater profile. And finally it was important to work with someone with an aesthetic sense that agreed with mine. I grew up around wooden boats and have particular likes about shear lines and transoms.

I decided to call Bob Perry because I like the look of several of his designs. Bob had never designed a schooner, nor a gaff rig, but he does have excellent aesthetic judgement. I told him his main task was to make the boat look beautiful.
Here you see Bob with his signature hat. I forget the story behind this hat and I will leave it up to you to decide if it looks good, but any one who designs boats and wears a hat like that is ok with me. He wore the hat on important occasions such as launch day, or when the hull was flipped over and it made it easy to find him in the crowd.

Bob took my usage notes and preliminary ideas for layout, rig, transom, etc. and started designing. We met once in his office in Seattle and thereafter talked on the phone with a lot of overnight deliveries of drawings.

I felt Bob did an excellent job of meeting my objectives. He surprised me (and won me over) on a few things, such as how heavy he wanted to make the boat (32K lbs) and the free standing rudder. I gave on some things and he gave on others.

We worked on the design for about 6 months before starting to look for a yard to build Jakatan. Construction started about 11 months after Bob Perry and I first met.
Spar and deck plan
Construction plan
Inboard profiles
Interior layout
LOD 40'6"
DWL 37'6"
Beam 13'1"
BWL 12'
Draft 5'6"
Disp. 32,000 lbs.
Ballast 12,600 lbs.

Mast Height 49'7"
Sail Area 1,046 sq. ft.
Fuel 100 g in two tanks (ended less, see "Issues")
Water 130 g in two tanks (ended less, see "Issues")
Holding 50 g

Volvo 75hp saildrive with feathering autoprop

D/L 270.9
SA/D 16.6
The interior layout was modeled after my previous boat, a Nonsuch 33. Mark Ellis did an excellent job designing the Nonsuch 33 and the interior works well for a couple with kids or occasional guests. So I keept the basic design and just made it a little bigger.

It is a traditional layout. The galley is immediately to port. Passing food and dishes to and from the cockpit, and keeping the cook in the cockpit conversation, dictates a galley by the companionway. There is a large fridge and freezer, the fridge having both top access and a door for getting at items on the bottom. Behind the fridge counter is a microwave hidden behind a lift up door.

The saloon table is just forward of the galley, it is large for a boat this size and fixed. I have had tables that convert to a double berth. They are rarely if ever used. By making the table fixed it can overlap the seats the proper amount for comfort and the pedestal can be prettier and sturdier. On Jakatan you can still sleep one on the cushion outboard of the table. All the seats have generous bottoms and sloping backs. We designed this table to accommodate 4 to 6 people playing cards or games, something we do often. There is a small bench seat, suitable for one, on the inboard side of the table. It is fixed to the sole but movable via a hidden slot in its bottom. This bench can also double as a hassock when sitting on the settee.

The starboard side starts with a double quarter berth which also serves as a seat for the chart table. There is a removable seat back, so when not using the berth for sleeping (most of the time) you have a nice bench seat for the chart table plus storage behind it. Forward of the chart table is a low storage locker providing more counter space on top, then a long settee which makes a comfortable sea berth. It has a permanent lee cloth under the cushion. A propane fireplace is fitted near the forward end of the settee.

Forward of the settee is the head and shower compartment. When the door between the foreward stateroom and the rest of the boat is closed you can enter the head from either area. A boat this size only needs one head, and this arrangement allows it to be shared by two parties without waking or disturbing the other party.

The forward stateroom has a large pullman style bed to port. To me, the main bed on a boat this size should always be in the front of the boat. On Jakatan you have full headroom throughout this cabin as well as the ability to see clearly in three directions. It is quieter in the front and there is great ventilation with a hatch over the bed and four opening ports. And finally, this is the best location to hear if the anchor is dragging. A large hanging locker, a dresser, and many drawers and cabinets complete the cabin.

With two masts you might think they would obstruct the interior more than on a single masted boat. But the opposite is true. The main mast is nestled where the galley meets the dining table seat and doesn't get in the way of passage or table access. The foremast is adjacent to the forward end of the pullman berth.

Above, there is a proper deck aft of the cockpit that has two lazarettes, one for propane and the other for a stern anchor. Between the lazarette hatches is a fold down swim step. This lets us have a transom with a traditional rake yet provides good dinghy and swim access when needed.


There are two custom davits for the dinghy. These are light (carbon fiber) and can be easily removed if desired (they fit in sockets in the aft deck and are fixed with a bolt underneath). There is room on the deck between the two masts for a 10' dinghy which is where it should go if you were to travel offshore.

Forward of the cabin top is a large fender locker. Every time we go out for a sail we have to put the (often wet) fenders away. I wanted a large locker that could hold all the fenders, docklines, and other stuff so all this could be stowed without bothering the guests in the cockpit.


I originally wanted a smaller bowsprit, but Perry convinced me to go for one seven feet long. Aesthetically this was the right thing to do, it extends the fore and aft sail area, and makes a great place to play and fuss with the anchor.

Jakatan is stoutly built and could cross any ocean. However, we often take groups of 6 to 8 out for a sail or evening fireworks and often that includes older people. So the cockpit is large and there is no bridgedeck. This makes it easy for everyone to get around but is certainly not desirable for an offshore passage. The lower two washboards can be locked in place should you be offshore with the possibility of a wave breaking over the rail but this will be rare on this boat and so we optimized for our typical usage.

Perry created a a modified fin keel with a free standing rudder. The rudder and rudder post is carbon fiber and Bob swears the end of the boat will tear off before the rudder post breaks. The keel is massive and cold take a pounding without concern. It is quite thick, not great for upwind performance, but then again any boat with two masts is not going to be a great upwind performer. The ballast is externally attached lead.

Perry dedicated a chapter in his book "Yacht Design According To Perry" to the design of Jakatan. It is a wonderful book and I suggest you get a copy if you want to hear from him how he went about designing Jakatan.
Maybe you noticed that I said the boat was to be 40' and it ended up 40'6". From the beginning Perry pushed me to make the boat larger, first 50' then 45'. I said no because to me the smallest boat that meets the needs is the best boat. Smaller boats are more fun to sail, they are easier to sail single handed, they take less draft, are easier to fix, etc. Adding 10% to the length of a boat is like making it 30% bigger. One day well into the design Bob told me he absolutely had to have 12 more inches to make the lazarettes and swim step work. I am a product designer and I have fought many battles over 1 mm so I asked Bob to prove it to me. After he described the problem I concluded that only 6 inches were needed. He agreed. That was the only time I gave on LOD or draft.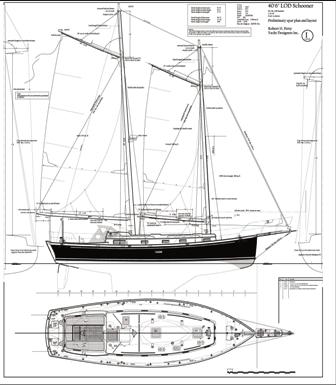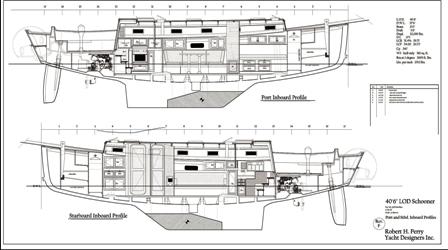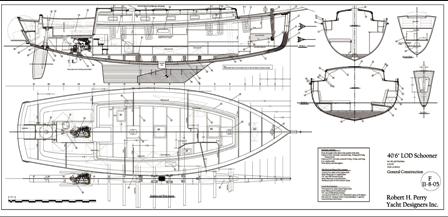 (Click on any of the drawings on this page to open a new window with a full size view of the image. You may need to click on the image, and then an expansion box to see full size.)