People
One the greatest pleasures of building a custom boat was the people. I looked forward to visiting the yard every four weeks and got to know most everyone working on the schooner. They were all talented and friendly. Below are most of the Jespersen crew. I apologize to Kevin and Bob that I don't have individual photos of you. I introduced Bob Perry the architect on a previous page.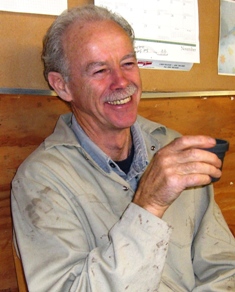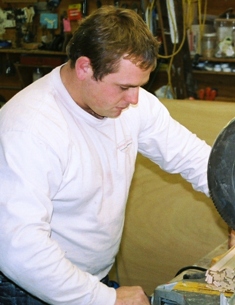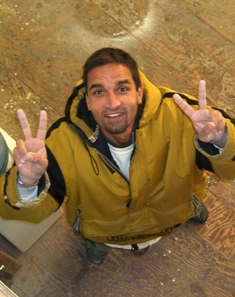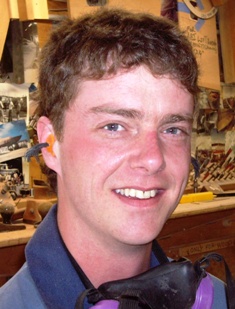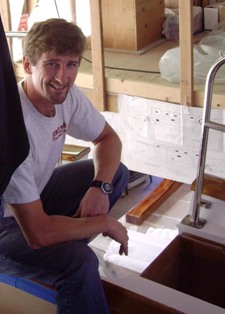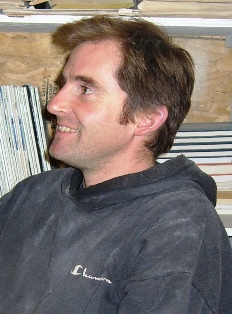 Eric. President of Jespersen, son of the founder. Eric is an Olympic medalist, Star class World Champion, and America's Cup veteran.
Bent. Founder, retired, but he was working on Eric's six meter most of the time I was there. Years ago he took his young family to live in Africa to teach people how to build better wooden fishing boats. How cool is that?
Michel, foreman. Michel sailed the world with his wife before becoming a master shipwright. Everything he builds is beautiful and first class, and he can build anything. All decisions of consequence had to be discussed with Michel.
Mike. Mike seemed to be involved in everything on the schooner. He and his wife helped deliver Jakatan to San Francisco. They want to cruise on their own boat some day.
Sean. Sorry for the blurry photo Sean. In fact all my photos of Sean are blurry. He must be always moving fast. He is pleasant and talented.
John. Maybe the quietest person involved, but everything he built was first class.
Amazing Norbert. Among other things Norbert was the master varnish and paint guy. He has ferrets for pets. His girlfriend's dog Lucy often hung out at the yard and was the first (and only) dog to go for a sail on Jakatan.
Chris. Perhaps the youngest of the crew. Very pleasant. I hired his uncle to be skipper on the delivery of the schooner. His ear is not exploding, that is an ear plug.
Rob. Rob ran the office, emails, invoices, materials ordering etc. I am not sure what he is doing in this photo, perhaps shredding files on a power saw. When not in the office he is pretty handy on the shop floor as well.
Rod. Rod is one of the owners of Strait Metal, the firm that fabricated all the stainless fixtures on Jakatan, which are beautiful. When we were having trouble moving the boat on launch day he volunteered his truck to help pull. I hope he didn't damage his transmission. He is a real nice person.
Jim from Victoria Electric. Our first electrician disappeared and Jim finished the job. Very professional. While we were all enjoying sun and wind during the sea trials, Jim was down below calibrating the electronics.
Interesting people would often stop by the boat shed. Here is noted sailor and naval architect Bruce Kirby appraising the schooner with Eric. Bruce designed the Laser, among other boats. Lurking behind is Eric's son Ross, who races Lasers.
Break time. Left to right, Mike, Michel, Norbert, Sean, John.
When the sun was out lunch could be had on the dock. On the left is Bob, who among other things built the carbon fiber davits. He sailed his catamaran single handed to Mexico in the middle of the schooner project.
Michel lives nearby on a paddlewheel boat he built, he takes this scooter to work. Mike is borrowing it to transport lead bricks for the trim ballast. Who knew carrying lead bricks could be so much fun?

I took the entire crew for a sail one afternoon. I don't know what John and Michel are looking at in this photo but the bowsprit is always fun to hang out on.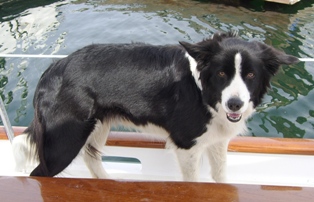 Lucy on deck. She likes to kick objects and make you fetch them, a very smart dog. She was well behaved on board.
The builders. Left to right, Mike, Michel, Eric, Jim, John, Kevin, Sean, Norbert, Chris. (Kevin usually worked on other boats but came along for the ride this day.)
The new owners, me and Janet.

On the left on launch day, on the right our first cruise during the CRISR Schooner Race Week in the San Juan Islands.

Isn't she beautiful? The boat too.